Auszug aus der Zeitung "The Namibian"
"Fellow Lions,
Further to our discussion at our business meeting on 7/4/2021 we have handed the wheel chair, which originates from Lions Club Jena, to Mr. Libolly Haufiku who will arrange the transport to the young lady concerned.
We had an in depth conversation with Mr. Libolly Haufiku, the executive chaiman of Ombaye Fishing (Pty)Ltd. who was very impressed by the quality of the wheel chair and pleased that it has solid rubber wheels which cannot be punctured by thorns in the area where the young lady is living.
Libolly has been living in Finland for years and is interested in Lions.
Kind regards,
Hans-Gert, Dieter and Hella"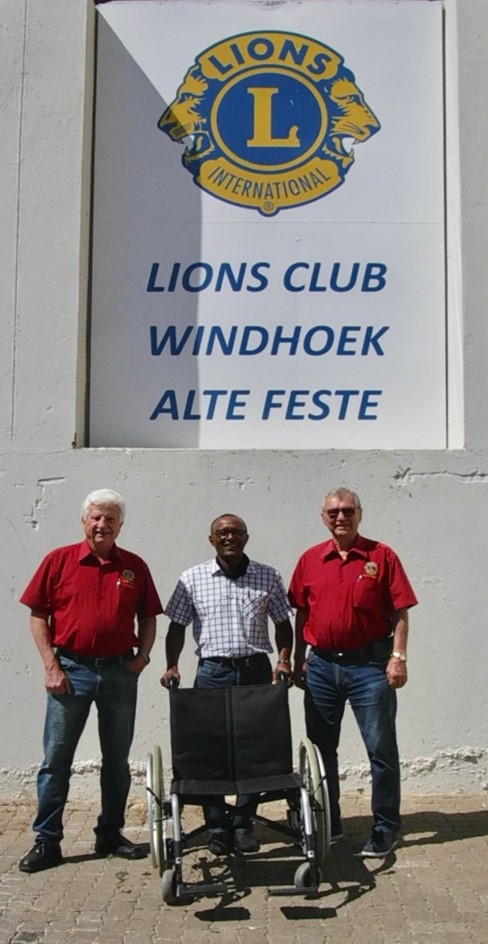 Liebe Lionsfreunde,
im Anschluss an unsere Besprechung bei unserem Business Meeting am 7.4.2021 haben wir den Rollstuhl, der vom Lions Club Jena stammt, an Herrn Libolly Haufiku übergeben, der den Transport zu der betreffenden jungen Dame organisieren wird.
Wir hatten ein ausführliches Gespräch mit Herrn Libolly Haufiku, dem Executive Geschäfts­­führer von Ombaye Fishing (Pty)Ltd. Er war sehr beeindruckt von der Qualität des Rollstuhls und erfreut, dass er Vollgummiräder hat, die nicht von den Dornen durchstochen werden, die in der Gegend, in der die junge Frau lebt, zahlreich vorhanden sind.
Libolly lebt seit Jahren in Finnland und interessiert sich für Lions.
Mit freundlichen Grüßen,
Hans-Gert, Dieter und Hella
Es erfreut uns immer wieder, wenn wir ein positives Feedback auf unsere Hilfsprojekte erhalten.
Hans Bornschein | Öffentlichkeitsarbeit